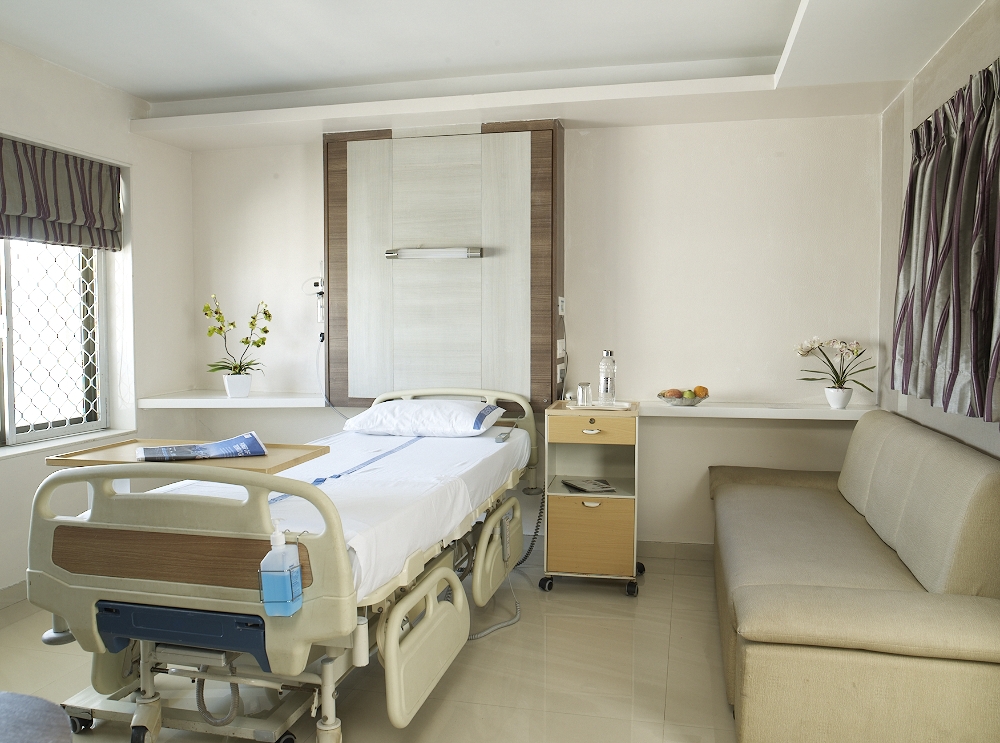 Accommodation
Sumitra Hospital offers a choice of Suites. Deluxe. Twin sharing and Economy beds All beds in the hospital are fully equipped with state-of-the-art medical support facilities regardless of their category. It is our endeavour to offer you the type of room you want to occupy. However, at times, a particular type of room may not be available as they may be fully occupied. In such an event, the hospital will allocate you the best alternative room available.
Room Amenities
All rooms are centrally air conditioned. Suites, Deluxe and Twin sharing are equipped with a colour TV with remote control, cable connection, telephone, Refrigerator and a couch for the attendants. There are attached bathrooms with each room.
Cafeteria
The cafe is located on the ground floor and is open 24 hours. This offers you a wide range of multi-cuisine and a variety of snacks, meals and beverages.
Internet
WIFI Internet connectivity is provided to you on request.
Physiotherapy and rehabilitation
A state of art physiotherapy department under highly qualified doctors with well equipped equipments is available from 9am to 7pm. Latest addition in the department is LASER machine to counter attack your pain has been introduced.
Whenever required, a physiotherapist will visit your room regularly to assist you in undertaking physical activities and practicing proper postures, which will help in faster recovery. He/ She will also advise you on daily exercises that can improve the quality of your life.
Patient care coordinator
Round the clock patient care coordinator are present on each floor to bridge the gap between patient and healthcare system. To ensure continued patient comfort, these coordinators are available just a call bell. The staff of the hospital make daily room rounds, during these rounds housekeeping, various equipment, facilities in the room etc are checked and if necessary serviced/ replaced.
Assistance to senior citizens
Special counters have been made in the front office and personal escort will be provided to the senior citizens visiting the hospital. Also, vulnerable toilets are made for senior citizen at various level.
Baby Feeding Room
A separate room is designed for mothers to feed their babies. This colorful and well-lit room takes care of privacy and silence for babies.
Parking
For your convenience and comfort, ample parking space is available for your vehicle in the designated visitor parking areas. The security personnel are on duty round the clock to address your safety and security concerns.
Newspapers
A copy of the daily newspaper will be delivered on demand to your room by the hospital staff.